Airport Transfer Service in Vienna from Limousine Center Austria
GET THE BEST OFFER EASILY
FREE!
Multiple offers, directly from our local Partners!
›
›

Airport Transfer Vienna
Vienna airport transfer
Vienna – the most desirable city to visit and live in
When you say Austria, the first thing that you think about is Vienna. It is an amazing imperial capital with beautiful palaces, stunning gardens and parks and elegant cafes. The fact that it has been on the top list of the most desirable cities to live speaks for itself. A very attractive place for tourists, also known as the world's number one destination for international congresses and conventions.
Planning Vienna airport transfer
No matter if you are on a business trip, travelling alone, or with your family, the most important thing is to choose the right transportation from the airport to the city centre or some other destination to prevent unforeseen circumstances caused by the wrong decision that can ruin your trip like delays or incurring undesired costs. Vienna International Airport is located 18 km southeast of the city centre, next to the town of Schwechat. Official name is "Flughafen Wien AG". Public transport is provided by buses, trams and five underground metro lines. Some of the airport transfer options are:
The City Airport Train which is maybe the easiest way to avoid stress and traffic jams navigating through the busy downtown,
Rail connections – economical rapid transit railway,
Regional buses – with connections every 30 minutes to Vienna's west or main stations, Morzinplatz/Schwedenplatz, and other, running 24 hours a day,
Car rental for those who do not want to depend on the schedule of trains and buses,
And of course, taxis and limousines for your safety, comfort, flexibility and freedom to enjoy the stunning Vienna scenery.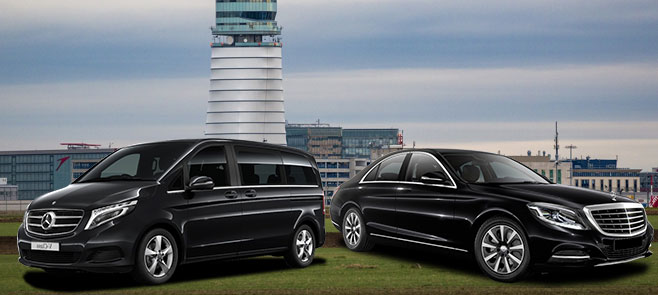 Taxis and limousines
There are a lot of taxi and limousine services in Vienna. However, if you are planning your trip and take care of your time, money and pleasure, enjoy the uninterrupted personalised Airport transfer drive in a comfortable limousine, van or coach. Especially, if you are in Vienna for the first time, you should not worry about transportation, but leave it to the professional and effective Limousine Center to take care of your ride.
Limousine Center will help you find a reliable chauffeur service in Vienna. Limousine centre in Austria offers luxury limousine, minivan, minibus, coach, vintage/classic car, perfectly tailor-made to fit your needs.
For our reliable Partners are always checking your flight's arrival time. If your plane arrives earlier or later, you don't need to worry. Your chauffeur will be there and wait for You!
We can arrange for you private airport transfers from and to all airports of Austria like Graz Airport, Innsbruck Airport, Klagenfurt Airport, Linz Airport, Salzburg Airport, Wels Airport.
For faster and easier booking of your private airport transfer, you can download the Limousine Center's app from the Play Store for any Android smartphone. You can ask yourself "Why should I choose the Limousine Center?" We can answer: "Because 80,000 people made the decision last year and choose our service with no regrets. We helped them to enjoy their journey through Austria".
Join this community and make your requests online with Limousine Center and our professional partners will get back to you with their offers as soon as possible.
Make your travel and journey through your destination safe, reliable, efficient and professional with our assistance. For, we at Limousine Center care for you and your full experience of a memorable journey.
Our customers said
Ali Tatveren (Kafkas) from Bursa, Turkey:
For me Limousine portal is a very helpful site at least with the recommendations of the portal you are understanding that the company you are choosing will be ok! Thanks for Limousine Center!
Les Barnes from South Africa:
It looks very good.
Most populated destinations from Vienna