| | |
| --- | --- |
| Private transfer from Madrid to Barcelona | |

Private transfer service in Madrid from Limousine Center Spain
GET THE BEST OFFER EASILY
FREE!
Multiple offers, directly from our local Partners!
Transfer from Madrid to Barcelona
Private transfer service from Madrid.
Do you like the feeling of comfort? We are too! So this is why we are created the Limousine Center. If you would like to travel in the most comfortable way we are here for you! And our more than 6,000 reliable partners are waiting for your request in more than 2,500 cities.

Get the best Limousine in Madrid with our help! You just have to fill out the form on the left side and the companies will send you their offers!

If you travel a lot don't waste your time with searching for local chauffeuer services with Limousine.
If you are on the way just download the Android app of Limousine Center and fill out the form.

Don't forget you are able to check our Partners reviews and you can select those companies whose are interesting for you.
Be one of the 100,000 delivered enquires. That amount of people cannot be wrong!
Our customers said
Deana Boerckel (Sierra Bullets LLC) from the USA:
the portal was great...had never used it before but I received adequate responses that enabled me to make a good decision. I also appreciate the fact that the carriers provided a quote with the first email and did not continue to email me if I did not respond. Saved me good deal of searching on the internet.
Pauline Wilcocks from England:
We cannot praise your company highly enough. Both drivers were very courteous, friendly and helpful - even pointing out and explaining things of interest during each journey. The drivers were very professional and smart, and our vehicle - a Mercedes - was extremely well presented inside and out. Everything was great - thank you very much.
| | |
| --- | --- |
| | Madrid |
Madrid is a south-western European city and the capital and largest municipality of Spain. The population of the city is almost 3.2 million and that of the Madrid metropolitan area, around 7 million. It is the third-largest city in the European Union, after London and Berlin, and its metropolitan area is the third-largest in the European Union after Paris and London. The city spans a total of 604.3 km2 (233.3 sq mi).

The city is located on the Manzanares River in the centre of both the country and the Community of Madrid (which comprises the city of Madrid, its conurbation and extended suburbs and villages); this community is bordered by the autonomous communities of Castile and León and Castile-La Mancha. As the capital city of Spain, seat of government, and residence of the Spanish monarch, Madrid is also the political, economic and cultural centre of Spain. The current mayor is Manuela Carmena from Ahora Madrid.
This article uses briefed material from the Wikipedia article Madrid, which is released under the Creative Commons Attribution-Share-Alike License 3.0, just as this article about the city.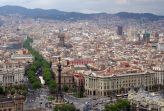 | | |
| --- | --- |
| | Barcelona |
Most populated destinations from Madrid