Airport Transfer Service in Basel from Limousine Center Switzerland
GET THE BEST OFFER EASILY
FREE!
Multiple offers, directly from our local Partners!
›
›

Airport Transfer Basel
Basel airport Transfer
Home to Switzerland's oldest university, The University of Basel, Basel or Basle is the third most populous city in Switzerland and the second to Zurich as the country's largest economic centre. Some of the most well known attractions in Basel are Kunstmuseum Basel (Museum of Art), Fondation Beyeler, Basler Münster, Messeturm by Morger & Degelo, fresh vegetables and fruits from Marktplatz, crossing the Rhine river through Mittlere Brücke and of course Basel's Old Town. It is also famous in the pharmaceutical industries and companies Hofmann-La Roche and Novartis are situated in the city.
The official language in Basel is German but the spoken language is mainly the dialect Basel German or also called Baseldytsch, Baseldeutsch, Baslerdüütsch, Baseldütsch. If you are from a country or area where German is not the official language, it will be more convenient for you to be welcomed by a professional chauffeur who knows and speak the language when you arrive at EuroAirport Basel Mulhouse Freiburg. The limousines, vans and coaches from Limousine Center are available at your disposal. A secure and comfortable ride will be taking care of your airport transfer in Basel.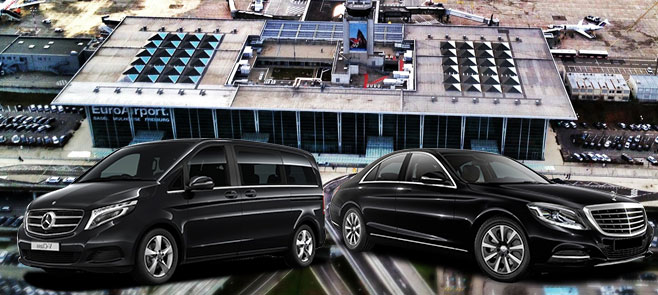 EuroAirport Basel Mulhouse Freiburg
The airport is located in Saint-Louise, France and caters to Basel, Switzerland, Mulhouse, France and Freiburg, Germany. It is the only airport which has an international border within the terminal. The airport has only one terminal and 5 levels where you can find the arrivals on Level 2, Level 3 for check-in and Level 4 for the departure gates. It is a hub for easyJet Switzerland and have regular flights with almost 30 airlines such as British Airways, Austrian Airlines, Lufthansa and Wizz Air. The travel distance between Zurich and Basel Airport is around 90 kilometers.
Our customers said
Erik Carroll from the USA:
Great experience using this service would highly recommend
One Customer from Sydney:
wunder full,thats all
Most populated destinations from Basel