| | |
| --- | --- |
| Private transfer from Täsch to Varese | |

Private transfer service in Täsch from Limousine Center Switzerland
GET THE BEST OFFER EASILY
FREE!
Multiple offers, directly from our local Partners!
Transfer from Täsch to Varese
Private transfer service from Täsch.
Limousine Center is the bridge between people. Why? Because we have collected the best premium limousine service providers in more than 2,500 cities. And these companies are happy to fulfill your needs whenever you want!

Do not waste your time with searching hours for reliable Limousine companies in Täsch. Just fill the forms and wait for the Limousine offers.

Whether you travel alone for personal purpose, for business or with a group you will find here the best ride for your needs.
Fill out the form with the necessary information and get the greatest offers from Täsch.

First time visit in Täsch? Need an exclusive Limousine? Try Limousine Center now!
Be one of the 100,000 delivered enquires. That amount of people cannot be wrong!
Our customers said
Gisela Bachert from Heilbronn, Germany:
Easy to use. Fast communication/ reply. Easy booking.
Jananders Mattsson from Sweden:
Thank you for good help and an easy way to find an operator who could take our group to it's destination for a good price.
| | |
| --- | --- |
| | Täsch |
Täsch is a municipality in the district of Visp in the canton of Valais in Switzerland. It is located about 5 km (3.1 mi) north of Zermatt. The local language is Swiss German.

Täsch is first mentioned in 1302 as Tech. In Latin it was known as Pera.

Täsch has an area, as of 2011[update], of 58.7 square kilometers (22.7 sq mi). Of this area, 11.7% is used for agricultural purposes, while 9.3% is forested. Of the rest of the land, 0.9% is settled (buildings or roads) and 78.1% is unproductive land.

The municipality is located in the Visp district, in the Mattertal valley, which contains almost all the highest peaks in the Alps such as Monte Rosa, Dom and Weisshorn. The 4,490 m (14,730 ft) high Täschhorn lies directly above the village. It consists of the village of Täsch and the hamlets of Zermettjen and Täschberg as well as the Täschalp hiking region.
This article uses briefed material from the Wikipedia article Täsch, which is released under the Creative Commons Attribution-Share-Alike License 3.0, just as this article about the city.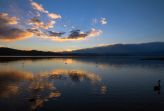 | | |
| --- | --- |
| | Varese |
Most populated destinations from Täsch